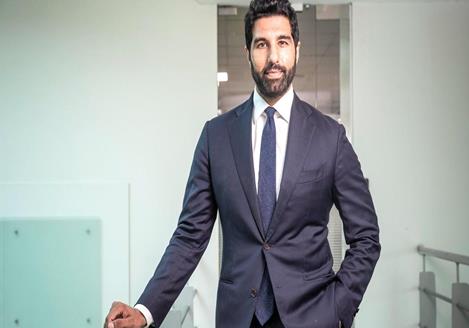 Uptick in construction and oil and gas is driving demand for steel products, CEO says
Alam Steel, a steel processing and distribution company in the UAE, plans to seek mergers and acquisitions from 2019 as it capitalises on the rise in the construction and energy industries that is boosting demand for its products, its chief executive said.
"We believe more consolidations will come and we want to be on the front foot of that," said Vikram Bhatia.
The global steel industry has traditionally been fragmented, with most operators region-specific and only a handful of international players. But Mr Bhatia said the GCC's improving economic outlook as well as global trade uncertainty and the imposition of tariffs on steel imports by China and the US this year – which has increased price volatility – would prompt a wave of M & As as companies seek greater efficiency.
"We think there will be rising interest from international steel companies in smaller, Middle Eastern players, and we would prefer to merge with one of those larger companies," he said.
Alam Steel plans to look for either a merger with an international company or an acquisition of a smaller local one by the end of 2019, once it has completed a balance sheet consolidation in the coming months.
Mr Bhatia declined to reveal how much debt the company has because Alam Steel is private and does not disclose financial information.
The company has recorded a 20 per cent increase in demand for its steel products since 2016, he said, while revenues are expected to grow by around 15 per cent annually in 2018 and 2019, as growth drivers such as Expo 2020-related infrastructure projects and higher oil prices – which have crossed $80 per barrel after a three-year slump – continue to buoy the economy.
The International Monetary Fund last month upwardly revised its GDP growth forecasts for the GCC on expectations that oil production and government spending will rise. The UAE is set to expand by 2.9 per cent this year, from 2 per cent projected previously, and 3.7 per cent in 2019.
"The downstream steel industry is usually a good indicator of economic health, both lagging and leading, because it's a sign of construction activity in terms of the workload we are executing now, and of future work to come, based on the projects we are bidding for," Mr Bhatia said. "Any concern that the economy is still slow is overblown."
The UAE is expected to consume around three million tonnes of ribar, a steel product used for civil engineering work, this year, according to Alam Steel's forecast. "The last time the country was consuming that much was in 2006, before the financial crisis," he said.
Today, new civil projects, rising global investment in the UAE's oil and gas industry and expansion into nuclear and renewable energy, is pushing up demand for steel. In addition, the government has announced a fiscal stimulus package and plans for long-term visas for expatriates to encourage them to invest, the chief executive added.
Alam Steel, which has several plants in the UAE and is working on the Dubai Metro expansion, among other contracts, wants to expand to become a company that distributes one million tonnes of steel per year, up from 350,000 tonnes today.
The company is investing 10 per cent of its income in research and development with a focus on building an e-commerce platform for steel products. It also expects to increase its processing activities to service a growing number of customers outsourcing their steel fabrication lines, Mr Bhatia said.
This could push Alam Steel to develop new factories across its three million square feet land bank over the next five years. It is currently using only a third of that.
The China-US tariffs have had little impact on Alam Steel as it does not operate in either market and therefore would not need to seek an exemption. However, it may be affected by the resulting price volatility.
"As the world's largest steel producer, China is the market maker. So whether prices go up or down depends on how much they decide to produce," the chief executive said.