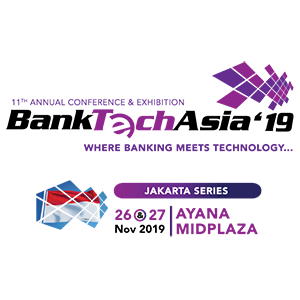 Where Banking Meets Technology
Technology innovations in banking are already transforming the financial sector and the traditional banking landscape which is set to rapidly change in the next five years.
Safety features, such as advanced cryptography and biometrics, will help protect against bank scams and remote applications will make it easier than ever to do your banking without visiting a branch but if you do, the experience is likely to be much more customer-friendly.
The 4th BankTech Asia – Jakarta series will back on the 26th & 27th November 2019. Industry leaders, regulators, bankers, market disruptors and solution providers are gathered here in one platform to discuss practical solutions, new ideas and latest technologies in the market. Don't miss out on the latest implementations to supercharge your banks' operations and stay relevant in this fast-paced connected world.
Activities at the event
Plenary sessions
Panel discussions
Networking sessions with speakers and other delegates
Target Market
Bankers
Fintech companies
Financial institutions
Target Profiles
Demographic: C-Level, SVP's and VP's of Banks, Head of departments, Directors.
Departments: IT, Business Heads, Risk, Cybersecurity, Digital Banking, Transformation and Innovation, Fintech, Compliance, AML, Audit.
View the full agenda, speaker line up, and other relevant information:-

https://banktechasia.com
For more information on Media Partners, Sponsors for this event, kindly visit the link https://banktechasia.com/list-all-sponsors/.