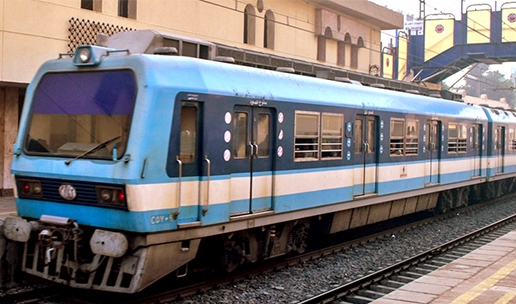 €205 loan to help alleviate traffic congestion and increase capacity of Line 1
Millions of commuters will benefit from a €205 million loan provided by the European Bank for Reconstruction and Development (EBRD) to support the Egyptian National Authority for Tunnels (NAT) with the partial rehabilitation of Cairo Metro, the major means of public transport in Egypt's capital.
The funds will finance urgent works on Line 1 – the oldest of the Cairo underground lines – which remains the backbone of the system and is used by 500 million customers per year. Investments will increase the line's capacity by 40 per cent by reducing headway (the time between trains) from 3.5 minutes to 2.5 minutes, thereby improving levels of safety, comfort and service reliability. The project will also introduce on-the-job training opportunities for young people.
The EBRD loan will be complemented by a €350 million loan provided by the European Investment Bank and a €50 million loan from Agence Française de Development, the French development agency.
Traffic congestion in Egypt is estimated to cause an economic loss of up to US$ 8 billion a year. Used by over 2.4 million passengers a day, the metro is vital for Cairo as it is one of the main means of public transport in a city of approximately 17 million people. The ongoing rapid growth in traffic congestion causes massive disruption to businesses and to people's lives.
The Cairo underground transport system currently consists of three lines and a fourth is under construction. Line 1 is 42.5km long and has 33 stations. It covers the Egyptian capital from the north to the south.
The investment will also help introduce an enterprise resource planning system, an asset-management and cost-accounting module to be used by the metro operator ECM. The system will introduce modern and efficient asset-management practices and provide a comprehensive tool for system optimisation and performance improvement.
The EBRD loan is being provided under the Bank's integrated approach for the Cairo urban transport sector, approved in 2015. The approach aims to improve the quality and level of public transport services in Cairo and the surrounding areas through targeted investment in various transport modes and through a set of reform measures.
The EBRD will promote greater sustainability and efficiency of metro services while supporting the transition to an energy-efficient, low-carbon economy through reductions in CO2 emissions. The Bank will also work with the Egyptian authorities to increase private sector participation in urban transport.
Funded by the SEMED Multi-Donor Account and the EBRD Shareholder Special Fund, technical cooperation activities will accompany the various phases of the Line 1 project.
Egypt is a founding member of the EBRD and has been a country of operations since 2012. To date, the Bank has invested over €4 billion in 84 projects in the country. The EBRD's areas of investment include the financial sector, agribusiness, and manufacturing and services, as well as infrastructure projects such as power, transport, and municipal water and wastewater services. The Bank has also provided technical assistance to more than 700 small and medium-sized local enterprises