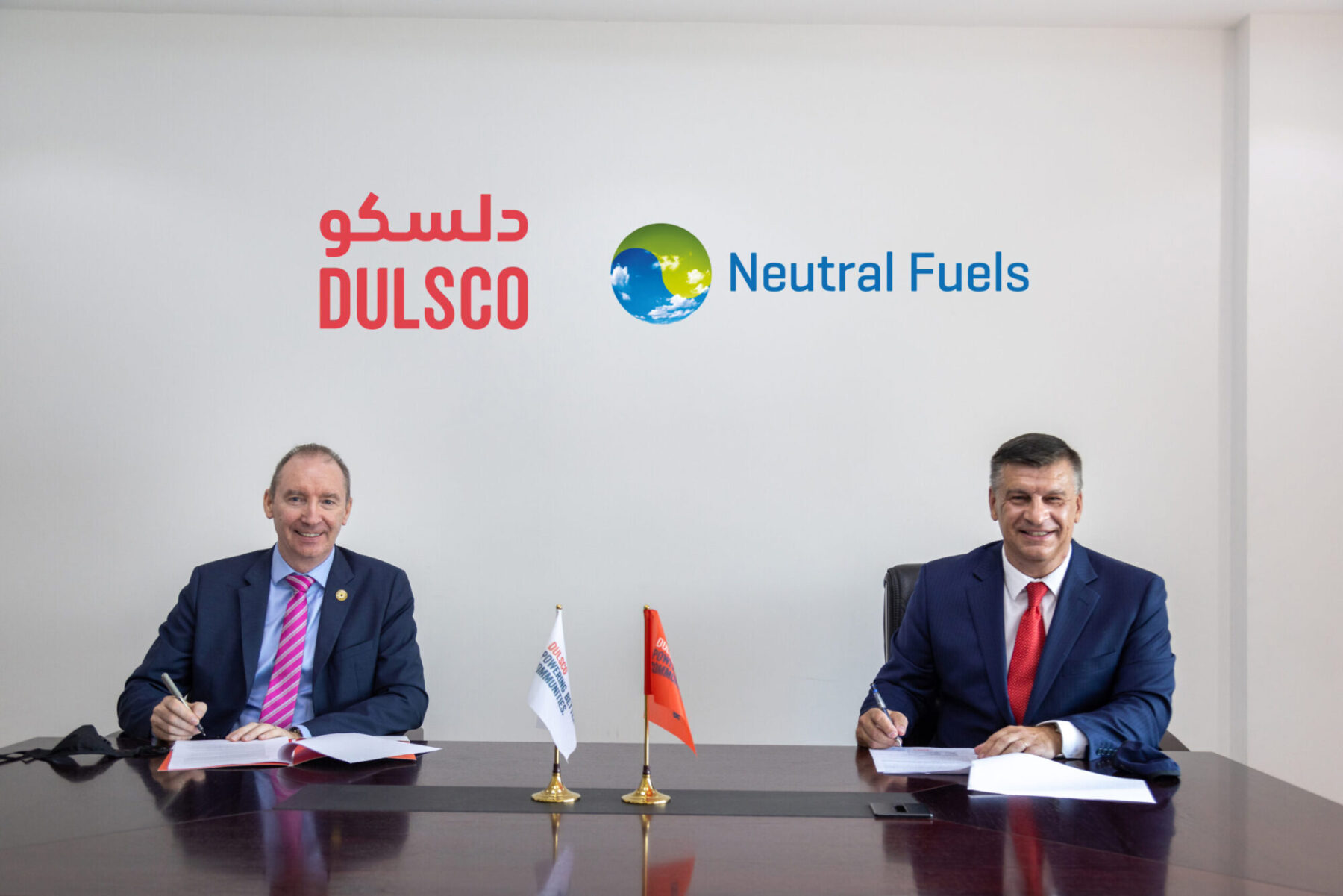 Dubai – 11 October 2020 – Neutral Fuels has entered into an exclusive agreement with Dulsco to recycle all the waste cooking oil the company collects from its customers into clean green biofuel. This collaboration between the UAE's leading biofuels producer and its leading waste management company supports two of the country's key environmental targets:
Cutting CO2 emissions by 70% and increasing clean energy use by 50% by 2050;
Diverting more than 75% of waste from landfill by 2021.
David Stockton, CEO of Dulsco, said the in-country partnership with Neutral Fuels also benefited the UAE's business development goals, contributed to human capability and stimulated productivity in the local economy.
'In addition to its in-country value, this collaboration will benefit our customers, including hotels, restaurants and malls,' said Stockton. 'Instead of sending their used oil to landfill, customers will appreciate the chance to recycle them locally into biofuel. This will reduce environmental pollution and feed into the country's circular economy, positioning our customers as environmentally conscious businesses contributing to the UN's Sustainable Development Goals.'
Karl Feilder, the innovative CEO of Neutral Fuels, said that collaborating with Dulsco significantly increased the amount of biofuel the company could produce. 'We use only local waste oil to make our biofuel so the more waste oil we have, the more biofuel we can make.'
Feilder said the collaboration also entrenched the Neutral Fuels city-scale local business model: making biofuel from local waste oil in a local refinery for use by local customers. 'Not only is this the most sustainable way to operate a company whose business is cutting CO2 emissions, it also generates in-country value from end to end,' he said.
With its obsessive focus on technology, Neutral Fuels has developed an app that alerts Dulsco when waste oil is ready for collection from its customers. Using bespoke technology to track and record oil from collection to delivery adds visibility to the whole process and streamlines logistics.
Dulsco's waste oil will be transported in the eco-friendly reusable oil containers (ROCs) Neutral Fuels designed and patented. Durable, lightweight, manoeuvrable and able to withstand high temperatures, the ROC is the cleanest and safest way to transport waste oil.
Both Neutral Fuels and Dulsco are committed to developing initiatives and services that protect the environment and contribute to the UAE's prosperity, according to the words of Sheikh Mohammed bin Rashid Al Maktoum, Vice President and Ruler of Dubai: 'Ensuring the sustainability of energy resources means ensuring the sustainability of the country's growth'.
CONTACTS
ABOUT NEUTRAL FUELS
For almost a decade, Neutral Fuels has pioneered Net Zero Biofuel in the UAE, the clean, green renewable fuel which immediately reduces transport carbon emissions to zero,enabling organisations to stop contributing to climate change. Surrounded by bespoke technology including an embedded AI engine,handheld apps, and IoT (Internet of Things) sensors, Neutral Fuels gives each customer a full supply chain audit trail and detailed insights that enable them to reduce fuel losses and operating costs, andimprove fleet efficiency.
Today, Neutral Fuels is the largest producer of biofuel in the Gulf region. Headquartered in Dubai, the company operates from recycling facilities in Dubai, Abu Dhabi, Bahrain, and Delhi serving customers such as McDonald's, Nestlé, PepsiCo, Del Monte, Emirates Airline, ENOC, ADNOC, and many others. Neutral Fuels was the first company to achieveESMAcertification (UAE.S 5023:2018) and its fuels are compliant with the European Standards EN 14214 and the American Standards ASTM D6751.
ABOUT DULSCO
Dulsco is a homegrown integrated solutions provider; the Emirati company has over 11,000 employees and offers services to make the community more productive, efficient, and sustainable, all the while improving wellbeing and quality of life.
Launched 85 years ago as manpower solutions provider, Dulsco has grown its business to become a leader in the Environmental Solution sector and today the company is appointed as the Official Waste Management Partner of Expo 2020 Dubai, working towards the achievement of 85% diversion of waste from landfill. Dulsco provides solutions for over 2,500 companies and organizations across the Middle East, and its commitment to its diverse clientele is reflected in its management system certifications such as ISO 9001:2015 for Quality, ISO 14001:2015 for Environment, and OHSAS 18001:2007 for Health and Safety.