During 29 years of service (October 21, 1992 – October 21, 2021), Nam A Bank has made remarkable developments in terms of operational scale, quality and efficiency. This journey would not have been possible without the support of stakeholders to bring sustainable happiness to the community. Today's achievements of Nam A Bank are, therefore, the tribute to the companionship, trust, and endorsement of customers, shareholders, and partners for the last 29 years.
Creating "Digital Happiness"
Syncing into the new wave of technology surging through all spheres of life, Nam A Bank is undergoing a tremendous digital transformation to timely provide end-to-end products and services, delivering happiness and success to customers.
A comprehensive customer experience with Nam A Bank's digital banking Nam A Bank made its mark on the financial and banking market as the first Vietnamese bank to use robots in transaction service. It also deployed the Onebank system, which enables customers to make 24/7 transactions such as depositing or withdrawing cash, opening a savings account, etc., without visiting the physical bank. Most notably, Nam A Bank launched a comprehensively updated Open Banking 2.0.
Accordingly, this app helps customers easily access a plethora of preeminent features via a modern interface, ensuring fast online banking transactions anytime, anywhere in a safe and secure manner. In addition, Nam A Banks strives to upgrade its technology ecosystem, comprising Open Banking, Robot OPBA, and Onebank, towards the goal of maximizing exceptional customer experience via its financial products and services.
Nam A Bank's proactive approach in technology investment not only ensures fast, safe and convenient transactions for customers but also helps to reduce operating costs, increase transparency and boost the performance of the Bank.
Sharing Happiness The 29-year journey of development has witnessed Nam A Bank's relentless effort in raising the bar, preserving and promoting the tradition of affection, bringing happiness to millions of disadvantaged lives.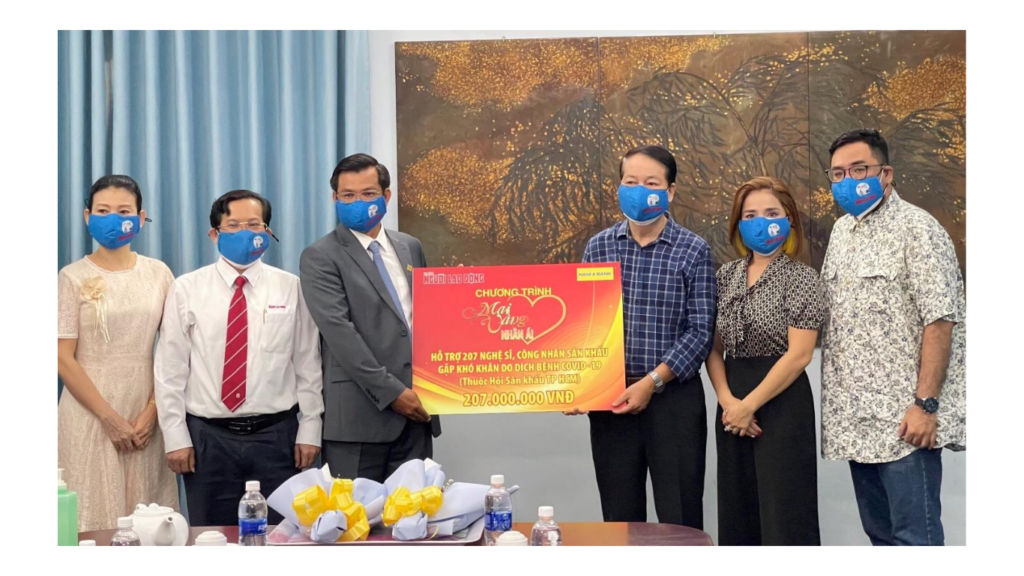 Nam A Bank supports the program "Golden apricot blossoms of Care" (Mai vang Nhan ai) initiated by Nguoi Lao Dong newspaper by offering financial aid to artists and theater workers in difficult circumstances on October 20.
Nam A Bank, whose mission is to ensure business growth in tandem with social responsibility, is one of the banks that proactively contributes to social welfare programs, including "Paving the way to school, lighting up the future" for the students; "Loving Tet" with thousands of gifts for people in flood-hit areas, places with poor living conditions; Nam A Bank's Red day on its annual anniversary with thousands of donated blood units, promptly saving lives of thousands of patients; Nam A Bank is also a strategic partner of "Employee Newspaper" in the implementation of many meaningful programs such as "One million national flags for fishermen going out to sea", Golder apricot blossom (Mai Vang) award, etc. Mai Vang award witnessed Nam A Bank assist Employee Newspaper newspaper with the award ceremony and in other activities, typically the program "Golden apricot blossom of Care" providing financial support for hundreds of artists and students from underprivileged circumstances.
In the last two years, amid the outbreak of COVID-19, Nam A Bank has implemented a series of meaningful activities to support the nationwide fight against the pandemic, contributing to Vietnam Fund for Vaccination and Prevention of COVID-19, and presenting medical equipment to Ho Chi Minh City's Vietnam Fatherland Front Committee and the Department of Health.
Happy workplace
Alongside the efforts to bring happiness to customers and the community, Nam A Bank always perceives human resources as an invaluable asset and a core driving force of the Bank. Friendly and modern workplace at Nam A Bank.
Nam A Bank places a premium on developing competent employees with strong work ethics in order to instill distinctive values consistent with its new development stage and corporate culture. As a result, the Bank was named one of HR Asia Magazine's Best Companies to Work For in 2021.
In addition, Nam A Bank's leaderships also pay great attention to compensation policies, as well as foster a friendly and professional working environment upholding solidarity to retain talents and attract experienced personnel.Recently, the Covid-19 epidemic has significantly affected the economy, and the banking system is no exception. However, Nam A Bank's leadership went the extra mile to maintain operation and keep revenue flowing. At the same time, the Bank also proactively adopted preventive policies to ensure employees' health and safety, as well as stable income, thereby putting their minds at ease during the pandemic.
With the Board of Directors by their side and detailed guidance from the Board of Management, as well as innovation – creativity – enthusiasm of successive generations of employees, Nam A Bank is confident to achieve sustainability, thereby strengthening its prestigious brand in the banking and financial market and contributing to the country's sustainable development.
Recognition of the society and community
Nam A Bank has received numerous prestigious awards, owing to the positive results achieved through its operational stability and digital acceleration in parallel with social contribution. The list of honors includes the 6th consecutive Strong Brand Award by Vietnam Economic Review, Best Companies to work for in 2021 by HR Asia Awards Magazine; Top Famous Brands in Vietnam by the Vietnam Intellectual Property Association, among others. 
Source received in mail.