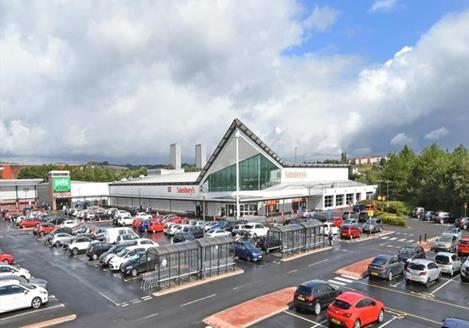 New high yield investment in a secure asset leased to Sainsbury's adding further balance to Sidra Capital's growing U.K. portfolio
Sidra Capital, the Shari'ah-compliant financial services company, have increased their U.K. presence by investing in a large commercial property leased to two leading British retailers at Great Western Retail Park, Glasgow. The long-term income-generating acquisition in Scotland, allows Sidra Capital to consolidate its holding on the park by adding retail brands Sainsbury's and Pets at Home to an existing line up of household name tenants.
"Our latest core plus investment gives further balance to our growing U.K. portfolio. We view this as a stable, defensive asset with committed, existing tenants and these factors will provide an attractive high yield," said Hani Baothman, Vice Chairman of Sidra Capital. "Despite Brexit in Europe and macro-economic uncertainty, we remain committed to a U.K. market which continues to provide attractive investment opportunities. Sterling as a currency offers attractive investment opportunities, and by adopting a long-term U.K. investment strategy we are fully confident we can deal with any short term, Brexit-related issues."
The prime property is currently let on long term leases to the UK's second biggest supermarket chain Sainsbury's Supermarkets Limited and the nation's largest pet food supplier Pets at Home. The property forms part of the wider Great Western Retail Park which is one of the dominant retail and leisure destinations in Glasgow. The purchase consolidates Sidra's existing holding at Great Western Retail Park which provides 193,628 square feet of modern retail warehouse space on a 20.2-acre site which is leased to a wide range of leading retail and tenants and F&B operators including McDonald's, Starbucks, B&Q, Currys PC World, KFC, Carpetright, Wren Kitchens and Mitchells & Butlers.
Sidra Capital has been an active player in the U.K. real estate market since 2011, and has invested more than GBP £900 million on 21 separate U.K. assets. With a dedicated London office, the company created a fully integrated platform and a bridge for Middle Eastern investors to secure U.K. and European property investments.
Sidra Capital provides investors with a broad spectrum of global opportunities and risk levels, and have investments in 18 locations worldwide, including the Middle East, U.K, mainland Europe, U.S.A. and Australia.
About Sidra Capital
Sidra Capital is a Shari'ah compliant financial services company based in the GCC (Gulf Cooperation Council). The firm is licensed by the Capital Market Authority, with a focus on Asset Management, Corporate Finance, and Investment Advisory services. The firm has been investing into real estate since 2011 with an acquisition track record that spans 18 cities globally covering multiple of sectors.
For additional information about Sidra Capital, visit: www.sidracap.com
For more information, please contact:
Tel: +966 (0) 12 602 9971
Email: PRandMarketing@sidracap.com