The King is dead – long live the King! The hero of the article is the crypto king. It goes without saying that the crypto hype in the global media came to an end almost two years ago. Tabloids, editorials in quality papers, web portals, and TV channels lost their interest in digital currencies amid the lack of the long-awaited newsbreak. A crypto currency has not been acknowledged yet a legal tender like fiat money by any central bank. This comes as no surprise because none of the countries worldwide has been able to find a means by which a digital currency is efficiently controlled in case crypto assets are declared legitimate for other financial markets, including the debt market.
It is a fact that the era of the crypto trading is still going on. Moreover, digital assets are still gaining traction. The global crypto market has shed speculators who flooded the crypto market inspired by the news on CNN or FOX News in 2015/18. They rushed to mine digital tokens betting on a jackpot. Nowadays, the cryptocurrency is viewed as a lucrative instrument which is gladly included in investment portfolios alongside fiat currencies, futures contracts, and binary options.
Whenever you come across news about the presidential election in the US, a slump in the oil market, the US – China trade war, Brexit, hostilities in the South Caucasus, sanctions, an economic crisis somewhere, etc., you must be sure that any of such development makes a direct impact on Forex. In other words, one or another currency instantly weakens in response. In fact, this news-affected currency falls against another currency, for example against the US dollar, so that the dollar goes up. Importantly, this growth is like a mountain's altitude above the sea level. When the sea water ebbs away, a mountain does not get higher. It is the global sea (or the other currency in the pair) that retreats. This is the principle which accounts for ¾ cases of volatility in the international currency market. Let's explain this in a simple language. A trader, who has not entered the market yet, is watching a base currency dropping.
A trader is cautious to buy this base currency at its extreme lows (or at the bottom), half-way to the bottom, or in view of its uncertain prospects. At the same time, it is not a good idea to buy the rising quoted currency at its peak, almost at the peak, or being unaware of its prospects. As it often happens, the volatile market offers great chances while a trader is still hesitant to enter the market and grab a chance to make a profit.
So, a good solution for cautious investors is to shift focus towards unconventional trading instruments. Cryptocurrencies exist under their own laws. The crypto market is quite predictable that makes trading digital assets safe and gainful. Crypto fans are betting on bullish investment prospects anticipating the bitcoin price in the range of $19,000 to 21,000 per token. This outlook depends entirely on the US dollar's health and the political environment in the United States in the wake of the presidential election. One thing is certain is that bitcoin is unlikely to sink below the current $11,000 – 12,000. What conclusions come from this information? There are at least two possible conclusions. First, a cryptocurrency is a must-have in your investment portfolio if you stick to a long-term cautious trading strategy. With 15% of crypto assets, your portfolio is wisely diversified for safe investment that is properly hedged. In the best-case scenario, you will be able to earn fat profits from a stunning rally if your bets come true. The second conclusion is that a cryptocurrency is the right trading instrument to include in your portfolio regardless of its dynamic. A cryptocurrency can trade with high volatility both on daily and longer time frames.
Nevertheless, it would be too adventurous to bet entirely on fiat currencies nowadays because regulators safeguard their national currencies from sharp swings. Bearing this in mind, it would be a sensible decision to add a cryptocurrency to your traders' toolkit to make your investment more flexible.
So, after the insight into the features of digital assets, let's dig into practical advantages of such investment. Any trader pursues a clear-cut aim to gain profits. The question is how to manage gains. You may decide that a profit has to ensure further yields or just withdraw it. Everyone knows that withdrawing funds from an account takes some time and expenses. However, if you are a client of a broker with a wide range of trading instruments, you have a great alternative opportunity to manage your profit. You can withdraw it from your cryptocurrency investment in digital tokens. Here is another tip for you. If you want to withdraw your funds in fiat currencies, you can first convert your fiat gains into a cryptocurrency with the broker and then easily withdraw this in tokens.
Importantly, make sure you trade both traditional instruments and cryptocurrencies with a large well-known and trustworthy broker. Indeed, a cryptocurrency is a cutting-edge trading instrument that requires non-stop technological development of a broker. So, it would be a nuisance to lose all the bitcoin benefits because of outdated trading software of your broker. InstaForex is one of the first brokers in the world to treat a cryptocurrency as a full-fledged trading instrument. The company made its name in the financial world as a provider of advanced services, products, and technologies. Its PAMM accounts and the ForexCopy service for social trading are the thumps-up!
When it comes to trading cryptocurrencies, InstaForex is also at the forefront with its unique trading conditions. A swap rate comes in at the minor 10% per annum that is no more than 0.03% per day. Moreover, the company charges a swap for cryptocurrencies provided that a client trades with leveraged funds from InstaForex. In other words, if a total amount of deals executed is less than a free margin in an account, a swap size with InstaForex equals zero.
Are you still viewing cryptocurrencies through the prism of dubious media reports and personal aversion? Here are the dynamics of market capitalization of the two most popular cryptocurrencies over the recent two years. Interestingly, virtual currencies have been recognized as a complete failure a few times over this period.     
Bitcoin: –
Ethereum: –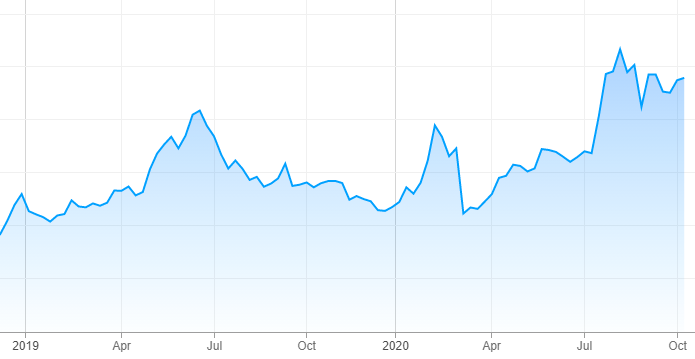 In fact, any currency or investment instrument could go through ups and downs over two years. However, with any dynamic and market volatility, there is one essential thing – a trend. The charts of the two cryptocurrencies – Bitcoin and Ethereum – display positive dynamics over the recent two years. To be more exact, they both have been following the overall uptrend. No wonder InstaForex offers both bitcoin and Ethereum as lucrative long-term trading instruments. Welcome to trade cryptocurrencies with InstaForex!