Zoho Corp., a leading global technology company, launched Ulaa, a privacy-centred browser built specifically to help users secure their personal data and activity by providing a browser solution that universally blocks tracking and website surveillance.
According to Norton, 85 percent of global adults want to do more to protect their online privacy, with two-thirds of global consumers feeling that tech companies have too much control over their data. Ulaa is the next step in Zoho Corporation's long-standing commitment to privacy, and designed to help users protect their personal information and internet activity from the prying eyes of user tracking.
"Privacy continues to be an uphill battle in the world of internet browsers because the model is broken — browsers are offered by vendors with ad-based business models so the incentive to gather, sell or buy user data is significant. This is meant to leave little room for users to guard their privacy becoming accustomed to sacrificing it in the name of access or convenience," said Hyther Nizam, President, Middle East and Africa at Zoho. "With Ulaa, users don't have to compromise their privacy to browse the web, which unfortunately has become a surveillance minefield. Zoho's commitment to privacy and a privacy-centric business model allows us to offer a conflict-free, privacy-centric browser who value their own privacy and their kids privacy."
The web browser comes equipped with features that allow for privacy customisation, built-in user profile modes, and integrated productivity tools while keeping user data safe and private. Users can also sync browsing sessions between devices — either an entire browser window or a singular tab — allowing them to use multiple devices for the same browsing session seamlessly.
Ulaa, a word derived from the Tamil language, means journey or voyage, and was developed to protect against tracking and surveillance. Ulaa is rooted in ensuring a maximum privacy web browsing experience by blocking unauthorised push notifications, pop-ups, and time tracking, preventing DNS prefetching, adding an extra layer of security through a multi-ID model in addition to privacy customisations, anonymised user data and stats, disabled APIs, geographical data isolation, end-to-end encryption, and privacy reports.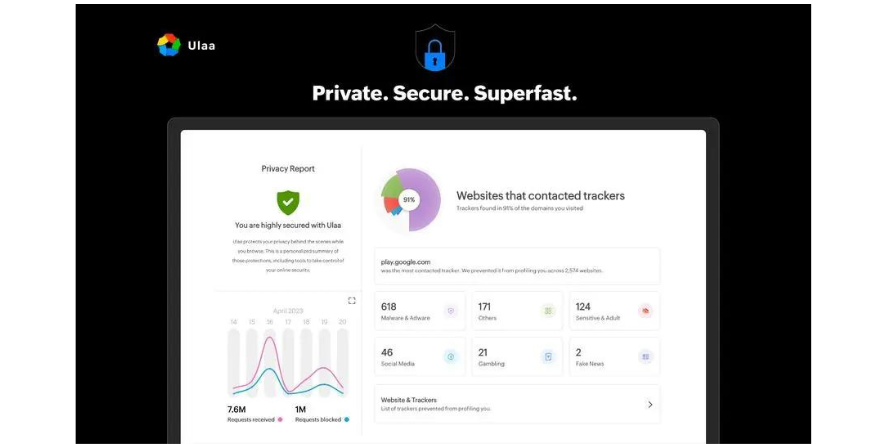 Ulaa users can toggle between five unique modes based on their desired browsing experience, with each mode completely isolated from others. The modes include Personal and Work Modes, Work Mode, Developer Mode, Kids Mode and Open Season Mode. Each mode offers a protected browsing experience unique to the type of users or members of the family.
Ulaa comes equipped with tabs management options to view all open tabs in one place to be grouped and organised. It also comes with integrated apps that boost productivity, including Zia Search for existing Zoho users, Text2Speech, and Zoho Notebook, a dedicated note-taking space that works across all tabs, so a user can easily jot down ideas, reminders, or important information without leaving their browsing session. Ulaa includes Annotator, a new, built-in feature that can add annotations directly to web pages and images.
Also read:
Zoho boosts investment in KSA aiding the Vision 2030