Kenya's diverse landscapes, dynamic economy, and expanding population present profitable opportunities for domestic and foreign real estate investors. The real estate market in Kenya has experienced exponential growth, as demonstrated by its contribution to the GDP of the nation.
Kenya's economy has experienced steady growth over the past decade, making it an attractive destination for investors. With an estimated population of over 50 Million people, Kenya has a high demand for housing, both in urban regions and emerging cities.
What propels the expansion are infrastructure improvements, such as upgraded major airports, electricity connections, and better roadways, along with consistent GDP growth, averaging 5.4% during the previous five years compared to the sub-Saharan average of 4.1%. Demographic trends, such as growth in urbanization, have also led to Kenya's boom in the sector.
Many organizations are striving hard to drive change in the real estate market. One such organization is Centum Real Estate.
Architectural Marvel: The Pinnacle of Residential Living
Centum Real Estate stands out as the industry leader. Their projects have boosted their reputation as trusted developers by creating visually appealing mixed-use urban nodes and giving investors the financial push to build urban node developments in those areas.
Centum Real Estate has spearheaded numerous residential projects in Kenya, creating innovative and luxurious living spaces for both individuals and families, and has delivered 800+ homes in the past few years Their commitment to quality and attention to detail is evident in each project they undertake.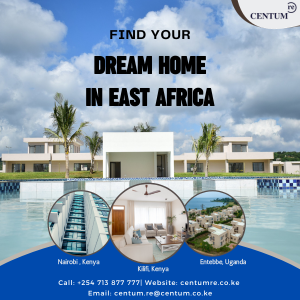 The projects Centum Real Estate have are as given below: –
Nairobi, Kenya: Two Rivers comprising of:
Riverbank Apartments (Phase 1 is move-in ready, currently selling phase2)
Loft Residences (Phase 1 is move-in ready)
Cascadia Apartments
26 Mzizi Court (Phase 1 sold out, currently selling Phase 2)
Two Rivers Duplexes (Recently introduced to the market)
Vipingo, Kilifi Kenya: Vipingo Development LTD comprising of:
1255 Palm Ridge Apartments (Phase 1 is move-in ready, currently selling phase2)
Awali estate (Phase 1 is move-in ready, currently selling phase2)
Entebbe, Uganda: Pearl Marina Estates comprising of:
Signature villas (Move in ready)
Mirabella Villas (Move in ready)
Riviera Residences
La Perla Bungalows
256 Bella Vista (Sold out)
Springfield Apartments
Another exceptional residential project by Centum Real Estate is Pearl Marina Estates. It's located on the shores of Lake Victoria.
With meticulous landscaping, a private beach, and a range of leisure facilities, Pearl Marina Estates offers a serene and luxurious lakeside living experience.
With a reputation for excellence, Centum Real Estate has been hailed as the recipient of two award titles: Real Estate Developer of the Year in Kenya 2023 and Residential Project of the Year Kenya 2023 by International Business Magazine.
Centum Real Estate Boasts 20+ years of expertise in real estate and these revered honors are proof of their history, knowledge, stature, and confidence in the industry.
Eco Haven Oasis
The real estate sector in Kenya has recognized the urgent need for sustainable development to mitigate the environmental impact of rapid urbanization. Developers, architects, and investors are now embracing sustainable practices to reduce carbon emissions, conserve natural resources, and enhance energy efficiency. One of the most significant milestones in sustainability efforts within the Kenyan real estate industry is the adoption of green building certification systems.
The most prominent certification system in Kenya is the Green Star Certification, which assesses the environmental performance of buildings based on criteria such as energy, water, materials, and indoor environmental quality.
These certifications provide a benchmark for sustainable building practices and encourage developers to incorporate eco-friendly designs and technologies. The growing market demand for green buildings can result in substantial returns on investment while contributing to environmental conservation. As technology continues to advance, innovations in sustainable building materials and energy-efficient solutions will shape the future of real estate in Kenya.
In addition to its remarkable residential projects, Centum Real Estate has made a significant impact in promoting sustainable real estate development in Kenya. Their commitment to environmental conservation and energy efficiency has earned them the coveted title of the Most Sustainable Real Estate Development Kenya 2023. Centum Real Estate's sustainability initiatives include incorporating green building practices, utilizing renewable energy sources, and implementing water conservation strategies.
Please use this link for details on our sustainability efforts: https://edgebuildings.com/project-studies/mzizi/   By prioritizing sustainability, Centum Real Estate is playing a vital role in creating eco-friendly communities that minimize their environmental impact. The integration of sustainability into urban planning and building codes will further drive the transformation towards a greener future. Centum Real Estate has also been awarded as Africa's Edge Champion of the Year 2023.
Building a Better Future
Centum Real Estate is a true industry leader because of its accomplishments as Kenya's real estate developer of the year, its outstanding residential developments, and its dedication to sustainable development. Centum Real Estate has a proven track record of success and is still raising the standard for national real estate development. Outstanding solutions that seamlessly blend style, comfort, and sustainability are available from Centum Real Estate. As a result, they instill confidence in their clients that they are purchasing a superior home designed by professionals that put both their satisfaction and the environment's long-term health on top priority.
Article On Centum Real Estate