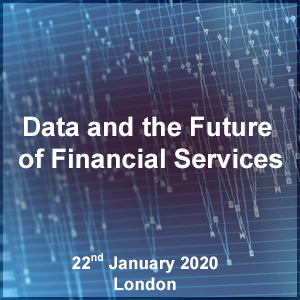 The Data and Future Of Financial Services summit will bring together all the leading experts to provide in a cross-cutting view of the emerging regulatory and ethical standards for data analytics, processing, and management; to examine the data-related developments of most concern to regulators, and to discuss the fundamental changes that lie ahead. The event will also enable c-suite executives to benefit from real-life case studies and best practices in the use, collection, and sharing of data.
An impressive array of top experts will guide delegates through the key issues, including:

As financial services become more data-driven, how do you achieve a balance between innovation and regulation?
Data analytics – the latest developments 
UK regulators' data science strategies
Successfully coping with the data-related challenges in Artificial Intelligence and Machine Learning
How are Artificial Intelligence, APIs and Open Banking transforming the data framework in the financial services sector?
Developing an ethical culture for the use of data. Instigating a cultural change whereby an ethical approach to data becomes an integral part of your data team strategy
Balancing privacy and profit
International regulatory cooperation on data rules – which reporting regimes are generating the majority of the demand for data today?
Data identity and privacy, customer experience, and data personalization
Enhancing the value of data via social media and other sources
Establishing internationally accepted data standards for the FS industry
Regulation of cross-border flows of data
Comparison of international data protection laws
Owning AI – introducing a culture of fairness, and understanding of bias in the data model.
Key Speakers include:

Roger Taylor, Chair, Centre for Data Ethics and Innovation
Steven Green, Head of Central Data Services, Innovation, Strategy, and Competition Division, FCA
Vivienne Artz, Chief Privacy Officer, Refinitiv
Clare Black, Director of Corporate Affairs & Communications, Innovate Finance
David Beardmore, Commercial Director, The Open Data Institute
Lord Clement-Jones CBE, Consultant, DLA Piper, Co-Chair, All- Party Parliamentary Group on AI, Former Chair, House of Lords Select Committee on Artificial Intelligence
Mikael Down, Executive Director for Assessment, Policy and Insights, The Banking Standards Board
Ian Evans, Managing Director EMEA, OneTrust Vendorpedia™
Christine Foster, Managing Director for Innovation, The Alan Turing Institute
Dawd Haque, Global Lead for Regulatory Market Initiatives, Transformation & Strategy, Deutsche Bank
Igor Lobanov, Chief Digital Architect, Legal & General
Caroline Louveaux, Group Chief Privacy Officer, Mastercard
Simon McDougall, Executive Director for Technology and Innovation, ICO
Angelique Mohring, CEO & Founder, GainX
Olga Petrenko, Head of Market Data, ESMA
Harriet Rees, Head of Data Science, Starling Bank
Beju Shah, Special Advisor Future of Finance & Digital, Bank of England
Justin Shaw-Gray, Account Director, Synack Inc
Mark Walmsley, CISO, Freshfields Bruckhaus Deringer
The full event program, speaker list can be viewed on the event website by clicking the link below:
Delegate Fee: £645.00+ VAT *Use discount code 'CRYPTOIBM' to receive a 20% discount off the standard fee and £595.00 early bird fee.
Registration Options: *in all cases the code above must be mentioned for the discount to be applied.