By classifying product and service lines that are customized to each group of customers, Shinhan Bank can optimally meet the needs for exceptional financial solutions and be companion to customers in any financial plans or long-term plan.
With the motto that "customer-centric" in doing business, Shinhan Bank always puts the benefits of customers first and strives to bring comprehensive financial solutions to them. After over 27-year history of development in Vietnam, Shinhan Bank is confident to be one of the banks offering an abundant portfolio of financial products and services, designed to customize the needs of each group of customers.
Loan products
The loan product is one of Shinhan Bank's key products, which are currently receiving positive response from the market thanks to its preferential loan interest rates and reasonable loan support policies. To better meet the financial goals for each customer group, Shinhan Bank has designed various loan packages with customized loan facilities.
For loan applicants who are teachers or bank staff, Shinhan Bank offers them additional 2% discount of interest rate on the current interest rate and the loan limit up to 12 times of their income. With a loan term up to 60 months and no collaterals and guarantee required, customers of this product line can actively arrange loan plans and repayment schedule that is most suitable with their current personal finance.
Additionally, Shinhan Bank introduced preferential loan packages with interest rate incentive and attractive loan support to loyal employees of corporate customers as an added-value. With this loan package, employees can be free from finance burden and invest fully their focus on their works.
Deposit products
In addition to loan product, Shinhan Bank also has deposits designed to students to support them with easier transactions, tuition fee transfer, daily spending and convenient payments during their overseas study. Two typical deposit products offered by Shinhan Bank to students are 4E Student account and K-Study account.
4E Student account is designed particularly for Vietnamese students and foreign students who are living and studying in Vietnam. 4E Student account facilitate students with convenient banking transactions through Internet Banking/SOL Mobile Banking, ATM network of Shinhan Bank and its allied banks, Samsung Pay App. Additionally, 4E Student account has many exceptional features, such as free cash withdrawal at Shinhan Bank's ATM network, free ATM card and international debit card issuance.
K-Study account is exclusively designed for Vietnamese students in Korea with many outstanding features that help students with financial proof and application for student Visa to Korea. Also, when opening K-Study accounts, students can enjoy free transfer to bank accounts opened at Shinhan Korea and easier to get deposit certificate through Internet Banking/SOL Mobile Banking to apply for extension of Alien Registration Card in Korea.
Card products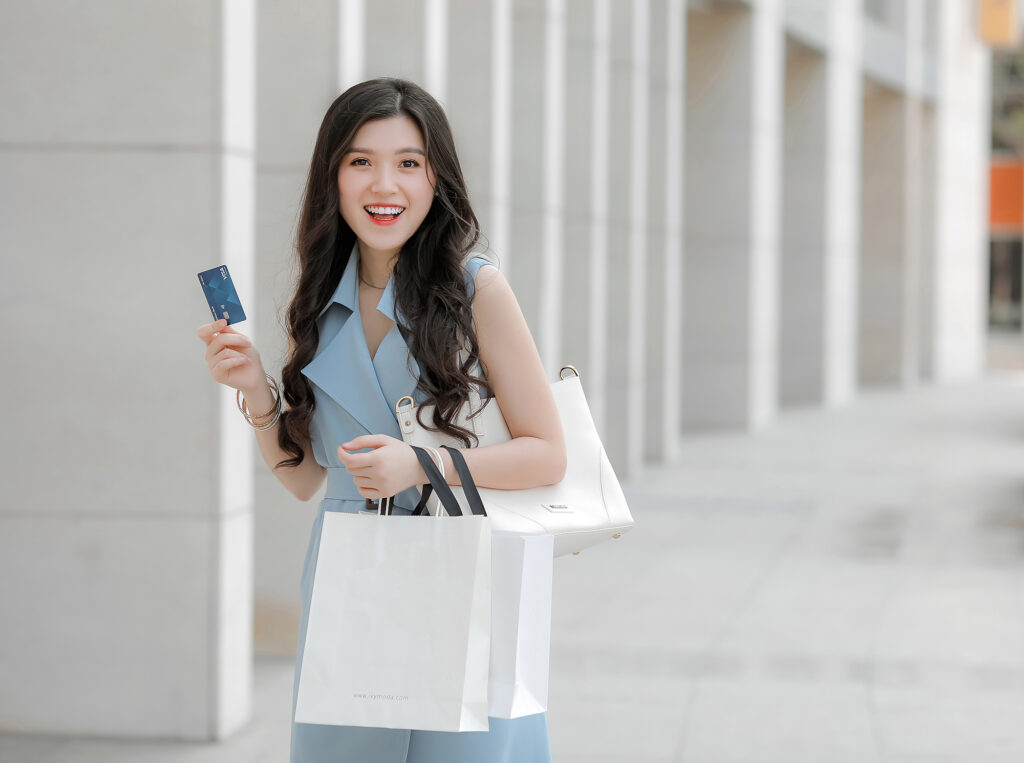 Shinhan Bank's cards are designed with specialized features that are customized to two key groups of customers, individual and corporate customers.
For individual customers, Shinhan Bank launches various card categories that optimally meet the diversified needs of customers. Specifically, Shinhan Bank launched Hi-Point, Cashback, Shinhan – Lotte Mart credit cards to meet the daily spending (shopping, dining, spa, etc.) with features of point accumulation and cashback. Holders of these cards also have the chances to enjoy special discounts from alliance merchants of Shinhan Bank. For customers in need of much travel by air, Shinhan Bank's Travel Platinum card is a right choice for them with features of mileage accumulation and redemption as well as other attractive privileges, such as free VIP lounges at airports, travel insurance coverage up to VND 12 billion.
Korcham – Shinhan card is exclusively designed for corporate customers of Shinhan Bank. This card product is equipped with convenient payment features to enable corporate customers to make payments at over 33 million of POS across the world, easy payment during business trips, and effective budget management through SMS service, monthly statement and Internet Banking/SOL Mobile Banking.
With enduring efforts to bring exceptional financial solutions to customers, in April 2020, Shinhan Bank was honored to receive the award "Best Foreign Retail Bank in Vietnam" by International Business Magazine. In the coming time, Shinhan Bank will continue to develop more diversified financial products and services to meet specific financial needs of different customer segments.