Qualcomm Technologies, Inc. announces the Snapdragon G3x Gen 1 Gaming Platform, a purpose-built platform that allows gamers the best place to play their favorite games. The platform delivers cutting-edge performance to run all Android games, play content from cloud gaming libraries, stream games from your home console or PC, and enjoy entertainment from your favorite Android apps. Amassing the entire arsenal of Snapdragon Elite Gaming™ technologies together to create a premium category of dedicated consumer gaming products, the platform is designed to power incredible experiences for gamers on the go.
The Snapdragon G3x platform brings next-generation gaming to players' hands. It features:
Ultra-smooth 144 frames per second and 10-bit HDR for gaming, through Qualcomm Adreno GPU. FastConnect 6900 Mobile Connectivity featuring Wi-Fi 6 and 6E for low latency and fast upload and download speeds. 5G mmWave and sub-6 for ultra-fast, lag-free cloud gaming while streaming games from services like Xbox Cloud Gaming or Steam Remote Play. it provides precise touch to controller mapping technology to enable the use of the built-in controllers across a wide array of games. Multi-screen, augmented experience can be unlocked with the ability to tether to an XR viewer via USB-C to a Snapdragon G3x powered device. It also allows for a device to act as a companion controller to a 4K display television.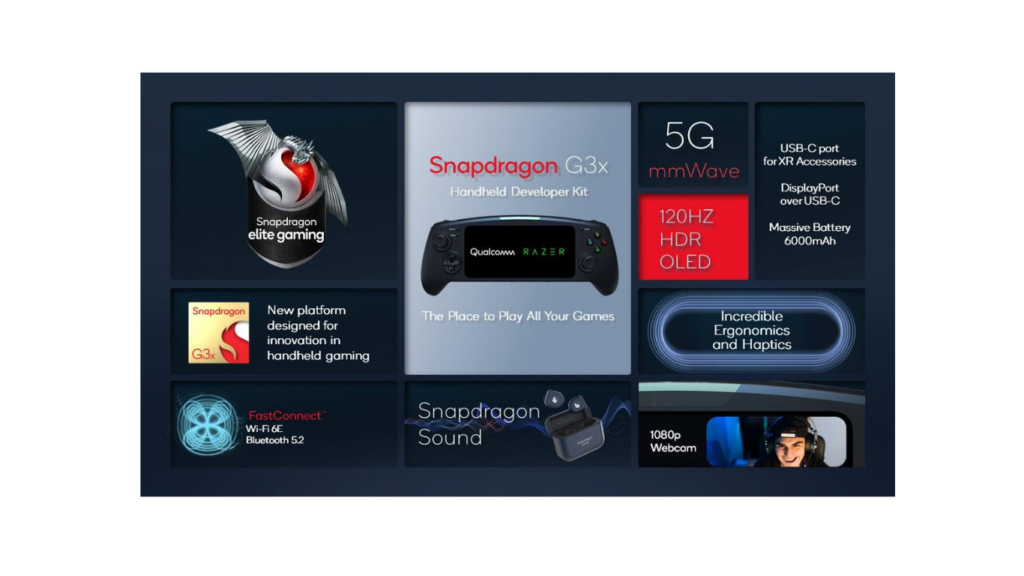 To showcase the platform, Qualcomm Technologies partnered with Razer to build the first Snapdragon G3x Handheld Gaming Developer Kit, which is available exclusively for developers starting today. Razer is stated to be a global leader in gaming hardware and has already constructed one of the world's largest gamer-focused ecosystems of hardware, software, and services.
"Razer is extremely excited to partner with Qualcomm Technologies and supports them on their way to introduce new cutting-edge technology to the global gaming industry," says Min-Liang Tan, Razer co-founder, and chief executive officer. "Together, Qualcomm Technologies and Razer will lead the way with new and innovative solutions that push the boundaries of fidelity and quality available in portable gaming, transforming the way these games are experienced."
To provide developers with a device with high-end graphics and ubiquitous connectivity, the dedicated handheld developer kit was designed around the Snapdragon G3x platform for uncompromised performance.
The developer kit holds features as 6.65-inch OLED display with Full HD+ resolution and 10-bit HDR Operating at up to 120hz, 5MP/1080p60 webcam with two mics, 5G mmWave and sub-6 and Wi-Fi 6E for the fastest connectivity for low latency, the developer kit also has built-in controller mapping from AKSys to provide controller mapping technology to enable the use of the built-in controllers across a wide array of games and  On-device 4 way speakers, gamers can experience lag-free wireless audio.