ACE Travel Management's CEO Sarah Wilson has been selected as a finalist for The Business Transformation Initiative of the Year at The Business Travel People Awards 2021.
The Business Transformation Initiative of the Year award recognises an individual or team from any sector of business travel that has driven and managed a transformation within their company which has had a positive impact on its customers, colleagues and the overall success of the business.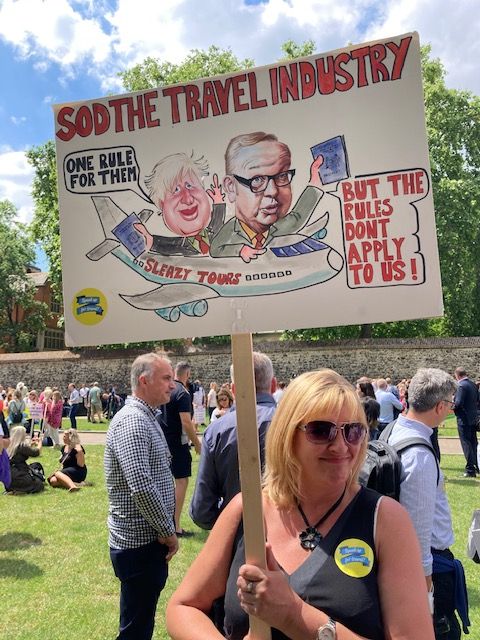 Now in its 10th year, the Business Travel People Awards is one of the most prestigious and popular events in the business travel calendar. The awards celebrate those across all aspects of the supplier element of corporate business travel management whose professionalism and business excellence make them stand out from their industry peers.
Sarah Wilson has been instrumental in ACE's development since taking over as sole owner and CEO in 2018, driving a number of schemes which has seen the business reach the upper echelons of corporate travel management.
Even in the past year which presented insurmountable challenges no one could have predicted Sarah maintained her advocacy for innovation. She commissioned a white paper report investigating how businesses can offset their carbon emissions, produced a series of sustainable travel guides for clients and oversaw ACE's appointment as the official UK partner for the world's fastest-growing travel management network ATG.
"I'm tremendously proud to have been nominated for such an accolade. You can't imagine what the recognition means after what has been such a challenging year for the industry as a whole" said Wilson.
She continued, "It's a testament to the whole team's tremendous hard work and we can't wait to attend the ceremony and celebrate the industry that we love with the rest of the nominees."
The Business Travel People 2021 award winners will be unveiled on September 15th 2021 at a ceremony at the Hilton London Bankside.
About ACE
ACE Travel was formed in 1992 and specialises in providing a comprehensive Business Travel Management service to the corporate sector in London and the South East through its offices in Brentwood, Essex and London. The company has over 300 corporate clients in a wide range of industry sectors and is the official UK partner for the esteemed ATG travel network, one of the largest, independently owned travel management companies in the world.
Media information
Dan Beal
Email | dan@betteragency.co.uk
Office address | Better Agency, One Moulsham Street, Chelmsford, Essex,CM2 0HR
Office number | 01245 790 760 www.betteragency.co.uk
Copyright 2021 reserved for the contents, image by ACE Travel Management and International Business Magazine