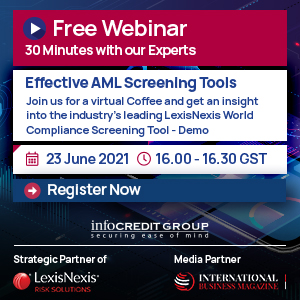 Infocredit Group and ICG Middle East Commercial Services DMCC present the webinar "Effective AML Screening Tools" on Wednesday, 23 June 2021, at 16.00-16.30 GST. Register now and get an insight of the industry's leading WorldCompliance Screening Tool.
Businesses are putting AML compliance at the top of their agendas as a result of increased global regulatory pressures, and compliance professionals are always looking for new ways to reduce risk and combat fraud.
By providing access to one of the industry's most comprehensive identity databases, the LexisNexis WorldComplianceTM Online Search Tool enables faster screening and deeper enhanced due diligence. The tool enables businesses to leverage real-time, up-to-date coverage of sanctions, PEPs, and negative news profiles for over 5.8 million individuals and businesses across 50 risk categories.
When screening prospective clients, the WorldCompliance Online Search Tool can help you understand important connections and make informed, confident decisions.
Join the event to learn more about the solution, including key benefits, features, and functionality, as well as to see a live demonstration.
Maria Evangelou, Business Advisory Consultant at Infocredit Group, will be the webinar's speaker.
There is no registration fee. Attendees of the event will receive a 7-day free trial and a 20% discount on any new subscription to Infocredit Group's compliance solutions.
Limited spaces are available. Sign up today to secure your place!
To register, click here.
Organisers: Infocredit Group Ltd & ICG Middle East Commercial Services DMCC, Media Partner: International Business Magazine For more information on the webinar and LexisNexis Screening Solutions, contact ICG Middle East Commercial Services DMCC at +971 4 3338188 or via email at compliance@infocredit.ae or estavrou@infocreditgroup.com.