iDenfy, the fraud prevention company, launched its Know Your Business (KYB) platform to help organizations review their partners by screening registry documentation, ultimate beneficial owners, or corporate structures. iDenfy's new Business Verification services will automatically allow companies to obtain all the data they require to determine if the business is legitimate.
iDenfy claims that the traditional KYB process is lengthy and complex since it requires businesses to manually review huge amounts of information regarding the companies that they have relationships with. To simplify such complex operations, iDenfy created Business Verification platform. They are integrated into the all-in-one platform for compliance officers and IT experts. According to the startup, its automated Business Verification tools help manage company structures more efficiently, minimizing the risks of human error.
iDenfy continues with its mission to prevent fraud, money laundering, and help reduce reputational risks by detecting fraudsters via automated, AI-powered tools. According to iDenfy's CEO, Domantas Ciulde, any business can become a target, as criminals tend to find innovative ways to steal funds before anyone realizes it. For example, bad actors try to move the attention away from their illegitimate company scams by opening as many bank accounts as possible under the same financial institution.
iDenfy's KYB spin-off will serve as a detailed Business Verification platform, identifying the real company owners and ensuring compliance with a few clicks. The services scan data from four major credit bureaus and 180 business registers to provide access to information on more than 200 million companies. iDenfy also has built-in resources regarding the companies' website information, court judgments or mortgage summaries, and employees, subsidiaries as well as all of the advisors' details.
The fraud prevention business' CEO explains that experienced criminals try to succeed with corporate governance schemes involving many businesses with the goal to hide the real beneficiaries, such as oligarchs, who are often wanted, adding that experienced criminals also tend to cover their tracks by purchasing companies that already have a whole history. To deconstruct fraudulent intentions and fake records, iDenfy's new services run sanctions, PEPs, and adverse media verifications and detect various types of suspicious behavior.
The startup voices the importance of noticing the typical red flags that inform companies about any potential company criminal activity: "In case there aren't any credit records, the organization's office address and shipping address don't match, or the company's ownership structure is constantly changing, you're dealing with a company that's involved in money laundering." – stated Ciulde. As a solution, iDenfy's Address Audit shows the company's office by providing multiple interior and exterior photos and automatically setting the risk level according to the address.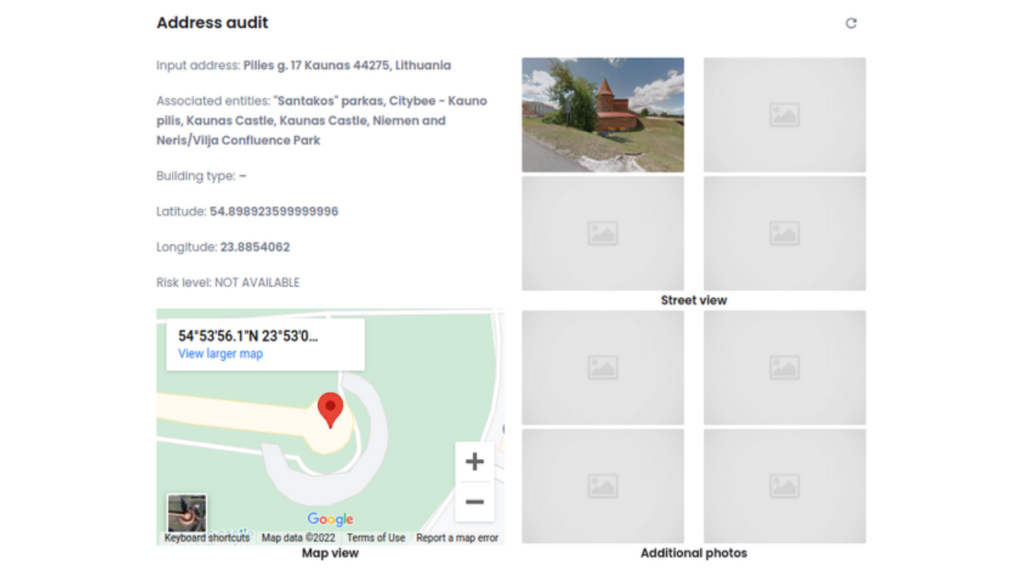 The startup stands behind the idea that people can't outsmart technology when it comes to large amounts of data. iDenfy claims that its newly launched solution minimizes human error and is a huge help for compliance officers who are looking for an easy-to-use platform that provides different tools in one place.
Specialists using the Business Verification platform can leave comments or check the History Log to review every detail that was changed. iDenfy also offers customizations that automate and tailor certain features based on the company's preference. For instance, iDenfy's Manager Rotation automation assigns selected compliance managers to review flagged data points on the platform automatically.
These money laundering schemes complicate the screening and fraud-detecting processes for financial institutions. As per iDenfy, spotting shady businesses efficiently without the help of automated tools, such as its Business Verification services, isn't possible in today's ever-changing digital sphere, where more companies adopt e-services for convenience and security reasons. That's why the startup's goal was to develop a platform that evaluates the company and its stakeholders with as little cost and time as possible.
"Our team has created a solution that provides in-depth analysis of any company in real-time while automating workflows for our clients and ensuring seamless onboarding. We believe that our Business Verification services simplify the KYB process and ensure regulatory compliance without having to worry about manual, lengthy operations." – clarified Domantas Ciulde, iDenfy's CEO.
About iDenfy
iDenfy is an all-in-one platform that provides fraud prevention tools and identity verification services for businesses and their customers. iDenfy ensures AML, KYC, and KYB compliance. The rapidly growing startup was named the best "Fintech Startup" in 2020 and received recognition for winning a Baltic Assembly Prize in 2021.
For business inquiries and more information, please visit www.idenfy.com
Press Release Received on mail from Ronica Samuel